SISTER SALY
---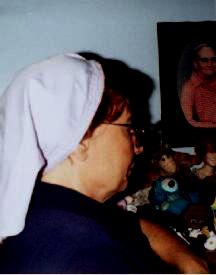 A favorite in the 14"
This veil is very light and airy for summer time if unlined.
Veil is attached to a brim about 1 inch wide that has decorative stitching on it, as well as the edge of the veil. Veil is gathered lightly at the top front to make it cup for a better fitting. The model is wearing the covering with her hair up and it pulled to the back, but it looks very lovely to the front and over the ears more. Brim ends are to be fastened behind head.

Measure around your head where you will be wearing the covering from very front edge to meeting in the back of the nape of the neck

---
---
| | |
| --- | --- |
| Un-lined 14 inches $9.00 | 18 inches $10.50 |
| Lined 14 inches $12.50 | 18 inches $13.95 |
FABRICS - MEASURMENTS I NEED - ORDERING INFORMATION

Longer veils in 22 and 24 inches are available upon request.
Back to Hannah Rose
Veils, wraps and coverings

---
---
©Copyright all rights reserved 1/1999 by Mary Bierman - Saly Covering
---
---