---
MANTILLA WITH or WITHOUT LACY EDGE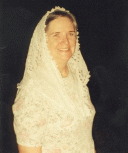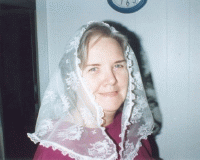 42 inch and 32 inch top width.
See larger view and fuller description

Maybe ordered without lace deduct $2.00.
Mid front loop with snap clip included.
LACE, off white with narrow lace edging.
LACE, black with 1 inch lacey edging.

About 32 inches wide, 17 inches deep mid center PRICE: $11.50 About 42 inches wide at the top edge, about 17 inches deep at mid center. PRICE: $14.95
Comb can be attached for $3.00
Plus shipping and handling.
---
TESS





CLICK HERE FOR LARGER PICTURE

May be worn over ears or behind them.
About 17 inches long, front edge about 25.
Wraps nicely in the back and fastened with pins.

Decorative edged hem.
Lightweight polyester: White, black.

PRICE: $8.25

Plus shipping and handling
Order here
---