LACE CASCADE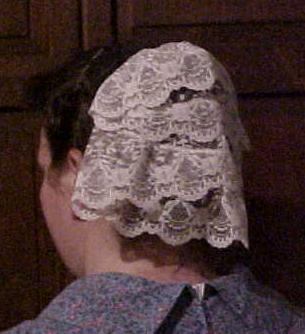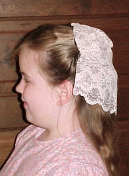 ADULT FULL SIZE CASCADE:
An elegant cascade of lace that fans out full and cups around the back of the head. It cascades down to about the collar in length, about mid length about 8 1/2 inches.

Loops to insert bobby pins or a hair clip for it to be attached at the crown of the head.
This covering looks so easy to make, but it takes a very long time, and lots of hand stitching, adjusting, measuring and re-measuring in the assembly. It takes me longer to make this cascade than all of my other coverings. Sometimes it can easily take two hours to make.

---
SMALLER CASCADE:


Picture coming soon.
Just right for those wanting a small covering, or one for their daughters.

This cascade is smaller than the one above that you see in the picture.
It is about six to seven inches wide at the widest part and about 6 1/2 to 7 inches inches long.

Also wonderful daughters or for the ladies that want a much smaller covering, are just starting out covering.

---
Back to Coverings Catalog and prices
---